Triangle Project
Triangle Project
The Research Center for Radiation Disaster Medical Science has been asking researchers from all over the country for joint research and joint equipment usage with the aim of applying a bottom-up approach to the scientific areas relating to radiation disaster medical care. However, in order to develop these scientific areas further, it is necessary to promote a top-down type of project which uses the strengths of the network-type research center that three research institutions have built, together with the bottom-up research projects.
The Research Institute for Radiation Biology and Medicine at Hiroshima University has been researching basic radiobiology, while the Atomic Bomb Disease Institute at Nagasaki University has been conducting research regarding radiation disasters centered on thyroid cancer research utilizing international field work, and the Fukushima Global Medical Science Center at Fukushima Medical University has been carrying out research involving field work in the areas affected by the Fukushima Daiichi Nuclear Power Plant Accident. Within this research, the research center has several projects which can improve the quality and volume of the research through the cooperation of these three institutions. Thus, the "Triangle Project" was initiated as a collaborative project with a top-down approach for these three institutions to jointly promote the research projects they have carried out uniquely so far within the framework of the following three research themes: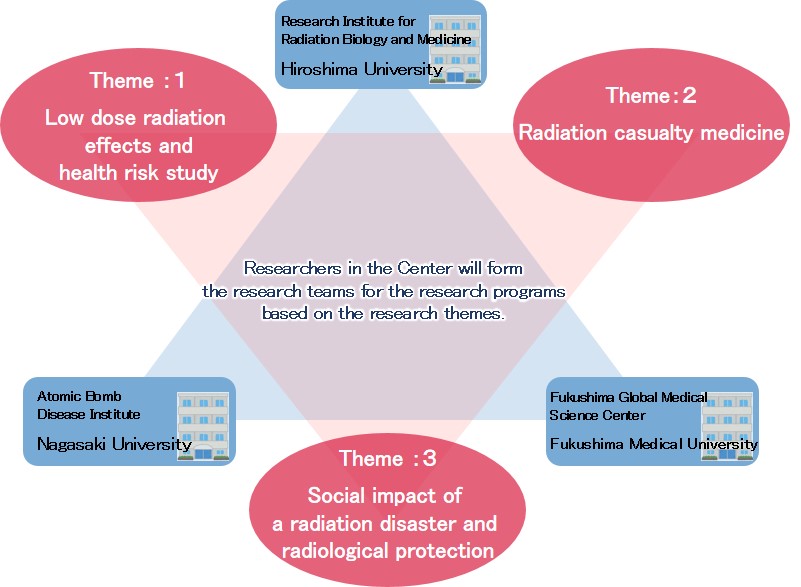 Theme 1)
Low dose radiation effects and health risk study:keywords – thyroid cancer, molecular epidemiology, radiation risk assessment and management, animal experiment systems, cellular experimental systems, genomic variation, DNA damage response and DNA repair, genome medicine.
Theme 2)
Radiation casualty medicine:keywords – regenerative medicine, side effects of radiation medical treatment and their reduction, oncology for victims of radiation disaster medicine, medical care for victims of radiation sickness.
Theme 3)
Social impact of a radiation disaster and radiological protection:
keywords – risk communication, epidemiology, radiological protection, radiation dose assessment.
Each of the projects has created research teams which bring together researchers (professors, associate professors, lecturers, and assistant professors) belonging to two or more of the research institutions from among the three and support activities actively involved in research into radiation disaster medical science. To coordinate projects, Coordinator Meetings are held with specialists in each of the themes and the final projects are determined at the Center Headquarter Council. During fiscal 2017, a total of 25 projects — nine projects for Theme 1, nine for Theme 2, and seven for Theme 3 — were promoted as part of the Triangle Project.